Tat1101 of BCoW is right here! Hello everyone and welcome to Tat1101's BCoW Profile and this is where I make one of the conceptions I make for BCoW and of course that there are some which are unacceptable and somehow end themselves up in the trash and they get deleted... But it doesn't matter! Well... Yeah... You can just go explore my page for something if you like to know from my stuff or you can go search for something else in BCoW! I wouldn't mind...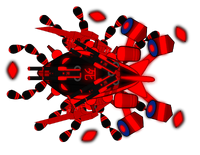 8/26/2020 Update: I lost the resources to create the designs of my conceptions. That's such a total bummer.
My Conceptions
Currently, my goal is to reach 1,101 conceptions. I am not sure how long will it take to get to that number, but I am looking forward to achieving that goal of mine.
Ratio: Not Made : Made
Bloons (8:3)
Boring Bloon (Tat1101's Conception) (Which in this case, is deleted and someone recreated it and it will be deleted again)
Rlellow Bloon (Pronounced as: Ree-leh-lohw Bloon)
Splitter Bloon (Which in this case, is deleted)
Blimps/Bosses (98:40)
Doesn't matter what category they fall, Boss, Normal, no matter what, they fall here so they just wont be separated (I have personal reasons why)
mmbfbotabotg (Which in this case, is deleted)
MMBFB Carrier (Maybe)
Big MMBFB Mk. I (Which in this case, is deleted)
Dive Bomber Blimp Carrier (D.B.B.C.)
Sisters of Death; Rouscylla & Desmikiv
MBFT (A revived, weaker MMBFBOTABOTG)
J.O.H.N. (Tat1101's Conception)
Towers (2:2)
Hakai (A revived Shaitan, different and weaker)
Artillery Battery (Tat1101's Conception)
Gameplay Mechanics (3:1)
Boss Fights (Tat1101's Conception)
Level System (Tat1101's Conception)
Tracks (41:19)
Between the White and Black Void
The Graveyard (Tat1101's Conception)
Special Missions (9:3)
Battle of the Underground Plateau
Life of BCoW (Historical Special Mission)
Items (4:2)
Sideuldian Star (Includes the Normal, Evolved and WS)
Special Agents (4:2)
Total: 170 out of 1101 (15.168%)
Deaths
Extra Notes
This wiki has some of the best memories I had, and I consider this wiki to take the top spot list of the best website (or wikia) I visited, and I really missed the epic moments with the admins and the mods
People who I really miss and want to see them again (Without distracting them)
They take the top spot list of being the most memorable people I met, yeah, I consider them as my best friends even though they (including me) live in different time zones
Community content is available under
CC-BY-SA
unless otherwise noted.