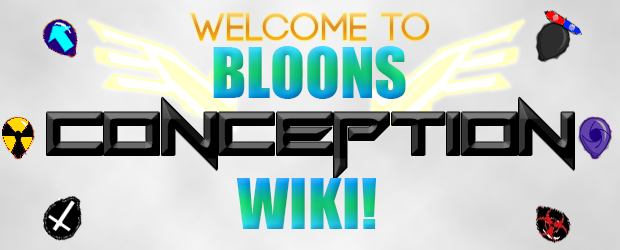 This is a wikia where you can express all sorts of ideas for the popular Flash game series Bloons! Whether it's an idea for a new type of Bloon, a new tower, a new agent, a new mechanic that affects gameplay, an idea for a new game in the series, or any crazy thing you can think of that's related to Bloons, it's acceptable!
If you need anything, contact a Staff Member!
If you'd like to contribute, you'll need to log in or sign up for a Wikia account. Once you've done that, simply type the name of your conception into the box below and click the button!

If you are wondering if there is any fixed style of editing, the answer is NO! You can edit your conception in a completely free style, as long as it meets the wiki's standards!
Since the Bloons series is currently focused on Bloons Tower Defense, we have the following categories you can contribute to here for that series:
The rest of the categories can be seen in the helpful links section. Moreover, outside of the usual categories found on most other creative wikis, we also have something better than that: things that can change the games themselves! Also, we support ideas for the original Bloons series! For these, you can look at:

Ongoing

Conception Colosseums have begun! Learn more about the competition here and participate in the newest one here!
We've initiated an operation to rebuild BCoW and make it great again! Find out more information about the plan here!
We've initiated an affiliation with Diep.io Conception Wikia and Diep.io Wikia! These two wikis are led by one of our own users, User:ZathusTheMageV, and Diep.io is a very popular game, so we hope with this alliance, our wiki will grow further. The terms of this alliance can be found here!

Recent

We've officially established Standards for conceptions in our wiki! Please give them a good read, everyone, for any conception that doesn't meet these standards will be deleted!
We've officially sabotaged the Wikia chat and moved all chatting activities to our Discord chatroom!


D.E.A.V.O.R.
"A powerful MOAB-Class Boss Bloon that specialises in mind control and hypnotic screen attacks."
― Author's description

To see more featured conceptions, go here or refresh this page with this link!
Anti-OP Bloon
"Hate OP conceptions? This bloon does too! In fact it would do as far as protesting to stop OP stuff! Though its power may not be too helpful."
― Author's description

To see more featured conceptions, go here!
Interdimensional Scientist Monkey

"A tower with high popping power that temporarily sends bloons to an alternate dimension where they can't be attacked and spits them out down the track."
― Page description

For information on the conception colosseum, go here!

Discord server

If you see this, your JavaScript might be disabled or DiscordIntegrator plugin isn't working. If the latter, please contact a wiki administrator.
Poll
What's your favourite bloon in BTD6?
Previous poll results

Here's last month's poll results:

User services
Community content is available under
CC-BY-SA
unless otherwise noted.